Taken From the Saved By The Belles Show Dvd

Viktoria
vs
Venom

Mat-Style Match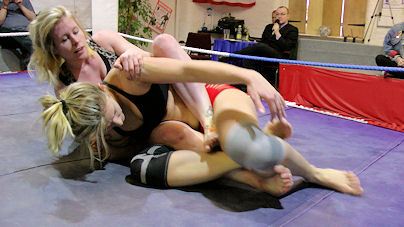 The penultimate match of today's event brought back Venom, in yet another costume change
- proudly displaying the words " Fighting Girls" on the back of her shorts.
Viktoria entered the ring in a black bra and red briefs.
A ferocious start erupted as Venom slammed Viktoria to the canvas. A vehement battle between the two blondes took place with both girls applying hard take downs; though, both coped admirably with each others' determined manner.

Utter concentration continued as Venom, yet again, gained so much respect from her first show,
giving such a good account of herself against someone of Viktoria's stature.
A lead was taken by one lady and this narrow margin remained throughout with stubborn resistance from both fighters.
A 2-0 victory was the final score as one girl tapped out, close to the end of the time limit.
A great match.

Download now !
Approx 13 mins

Price £9
To download this video click buy now button. Pay by credit card or Paypal