Taken From the Saved By The Belles Show Dvd

Red Hot Challenge
Red Hot Mama's v Lisa Fury & Sammi Hunter & Nikki Storm.

Pro-Style Match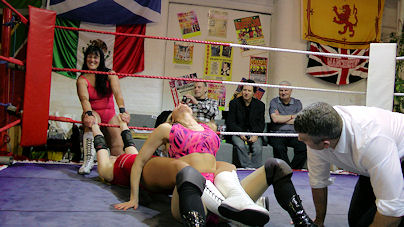 The final bout of today' show brought back Pippa L' Vinn and Shelby Beach - united as one in their team of the Red Hot Mama's.
As they warmed up confidently, Lisa Fury came to the ring in a colourful pink and purple two piece outfit.
She then called out her next partner - Sammi Hunter to create their tag team.
They were not yet finished though and, both summoned another girl from the locker room area to jon them: Nikki Storm.
The Mama's were clearly going to have their work cut out with the presence of three opponents.

Pippa took on Lisa first before Ms. Fury went running to her corner.
This gave Pippa the opportunity to tag Shelby in as she, in turn, faced Nikki Storm.
Frequent changes in personnel seemed to be the order of the day for this match and the referee had a hard task establishing the legal wrestlers' in the ring at any one time. A close match with neither team able to dominate was brought to a close when all 5 girls were in the ring at the same time.
A pile on concluded the bout with the losing team unable to remove the victorious grapplers from covering them.



Download now !
Approx 17 mins

Price £9
To download this video click buy now button. Pay by credit card or Paypal