Taken From the Saved By The Belles Show Dvd

Kyra
vs
Pippa L'Vinn

Mat-Style Match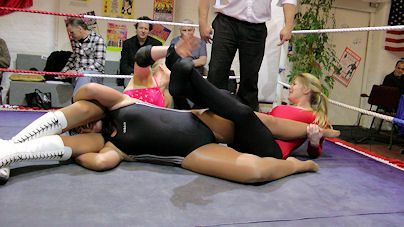 Pippa climbed through the ropes in a black adidas swimsuit and tights. Facing her: Kyra, adorned in her costume from her previous bout v Jenna.
This student v teacher battle was really going to test Kyra, with one of the quickest submissions witnessed as Pippa forced the pretty blonde to tap out with only 30 seconds gone. Pippa was in no mood to be mess around and established her superiority gaining a lead at 2-0 via a folding press and another submission to an amost unassailable lead at 3-0.

Pippa's defiant mood was taken aback somewhat when Shelby Beach entered the ring to link up with Kyra in a 2 v 1 contest.
The surprise element of Shelby's emergence certainly looked to have caught Pippa unaware as the two blondes foreced the scoreline back to 3-1.
What started as a Mat Based Match then developed into a Pro Style Bout, with Pippa having to cope with 2 opponents, double teaming !
Kyra seemed inspired by her additional partner in crime and took the match to Pippa, knowing she had the comfort zone of Shelby in her corner to call on.
Pippa stood defiant and aimed a low kick at Shelby as the match took on a frantic pace before a winner emerged.

Download now !
Approx 13 mins

Price £8
To download this video click buy now button. Pay by credit card or Paypal