Taken From the Saved By The Belles Show Dvd

Pippa L'Vinn
vs
Venom

Mat-Style Match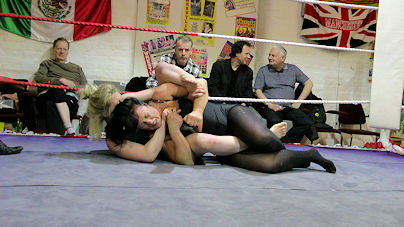 The first match after the interval featured the lady most of us come to see: Pippa L' Vinn, in a sexy figure hugging black one piece outfit.
Her opponent, making her reappearance after her debut match v Antscha: Venom, sporting a blue top and black shorts.
After such an impressive display in her first match, Venom would really be tested against the master of mat based grappling !
Pippa's advances were countered by the Londoner, wary of those magnificent leg holds that the Manchester lady was able to apply.
The audience were treated to a superb technical delight, with both wrestler's seeking to control the match.
Close lock-ups from both were used, legs and arms enlocked in a true test of strength and guile. Venom, clearly very experienced, was not overawed as the audience were rivetted in their seats.

Venom took the first advantage by gaining a submission to lead the match 1-0.
One could hear a pin drop, such was the intensity and concentration of the two superior wrestlers....how would Pippa seek to redress the balance ?
Pippa, straining every last sinew from her magnificent body, gained a deserving equaliser to level the score.
It also has to be said that this bout was very sporting; Pippa on two occasions acknowledging that she unintentionally had caught Venom's hair.
This contest was so enjoyable that the 15 minute time limit just flew by in no time at all.
Both combatants received warm applause as the match concluded.
Two supreme athletes providing a contest that was worthy of the admission fee alone.
Magnificent !

Download now !
Approx 13 mins

Price £9
To download this video click buy now button. Pay by credit card or Paypal