Taken From the Saved By The Belles Show Dvd

Nikki Storm
vs
Shelby Beach

Pro-Style Match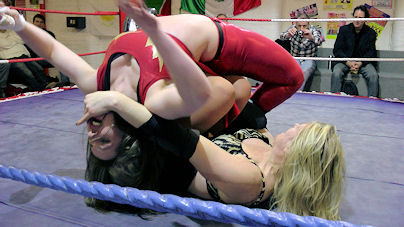 The England v Scotland theme continued when Nikki Storm climbed through the ropes in a colourful red outfit - with a pink woolly scarf !
The blonde bombshell, Shelby Beach, made her entrance to loud applause after acknowledging most, if not every member of the audience.
The Glaswegian opened up with an armbar; Shelby cleverly rolling out then, almost instantly acquiring a 2 count for a near fall.
This resulted in Nikki leaving the ring........if this was to conserve energy then, it backfired as Shelby followed her
and both ladies began chasing each other around the arena.
Calm appeared to have been restored after this initial energetic opening when Nikki offered an olive branch to Shelby, stating; " Let's hug".
Nikki tricked Shelby by then kicking her and gaining a 1 count only from the hold that followed. Shelby came back strongly,
forcing Nikki facedown, with a pin looking imminent. Nikki was glad of an escape by placing her foot on the ropes.
The Wigan bombshell continued the momentum by slamming Ms. Storm into the turnbuckle then, Shelby hoisted her into the air with a fireman's carry, leading to an aeroplane spin, concluding with a 2 count. The plucky Scottish lady would not lie down and with both girls apparently dazed from the aforementioned spin hold - came back at Shelby with an eye rake and slam. Shelby responded with power in a bid to break down her opponent using a scissors hold for a near winning 2 and a 1/2 count.

This fast and furious match finished when a 3 count roll up proclaimed a worthy winner.

Download now !
Approx 16 mins

Price £8
To download this video click buy now button. Pay by credit card or Paypal