Taken From the Saved By The Belles Show Dvd

Jenna
vs
Kyra

Mat-Style Match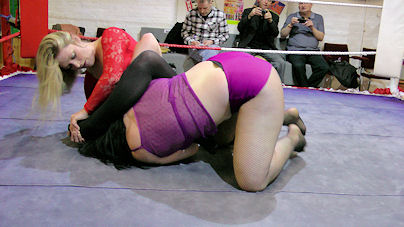 A return to mat based action next as Jenna returned to the ring after the show's opener.
Making her first appearance of the day: Kyra, in the first all English bout of the event.
Kyra opted for traditional attire, wearing a lovely bright red leotard and black tights.
Jenna struck the opening blow by gaining a first submission very early on. She continued her all out attack but, any thoughts of a one-sided affair were soon forgotten as Kyra came back at her superbly......weakening Jenna's advances by forcing the palm of her hand on to her chin.
After another tight lock up between the two, Jenna was forced to tap out.

The contest was developing into a very even bout with Kyra gaining strength and confidence as the match progressed. Great sports(wo)manship was shown as holds and counter moves swung the match back and forth.
At 2 pins each the pattern of the match took shape with a series of takedowns by Jenna, repelled by Kyra.
Jenna took the next fall after an intense lock up to lead at 3-2.
Both girls began to mirror each others' holds of the legs, before crashing simultaneously to the canvas.
With the score of 4-2 in Jenna's favour, Kyra pulled the score back using every available limb of her opponent, including her toes !
A great match finished with one girl victorious by a close 5-4 scoreline.

Download now !
Approx 14 mins

Price £9
To download this video click buy now button. Pay by credit card or Paypal