Taken From the Retribution Show Dvd

Viper
vs
Carmel

Pro. Style Contest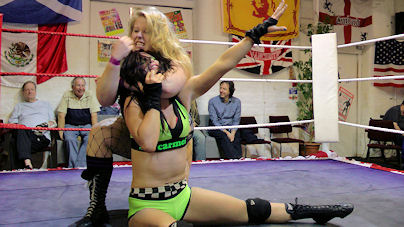 Viper confidently strode to the ring for the next match, wearing her traditional wrestling attire of black leotard, tights and boots. Carmel was her opponent, making this another clash of the Scots !
Viper's immense strength naturally contributed to her looking to be the favourite to win this bout. As we all know with Pro. Wrestling and, indeed, most sports, nothing is certain. Carmel in her colourful green 2 piece costume and effective matching eye make-up was in no way threatened by her fellow country woman.
She extended a handshake to Viper - big mistake ! Viper thwarted this act of friendship and laid into her. Carmel was on the ropes - literally - as Viper looked to be finishing this bout early. Carmel, though, is one tough cookie and took her punishment impressively, the consummate professional that she is.

Viper refused to become frustrated by her antagonist's stubborn refusal to lie down and body slammed Carmel to the deck. This was followed up with an impressive splash.
This appeared to be the way forward to break Carmel down as she continued to work her over...
One lady pulled out a sudden victory, via a roll up ,well within the time limit.


Download now !
Approx 7 mins

Price £7
To download this video click buy now button. Pay by credit card or Paypal