Taken From the Retribution Show Dvd

Carmel & Shelly Star
vs
Kayleigh Ray & Sarah

Pro. Style Tag Match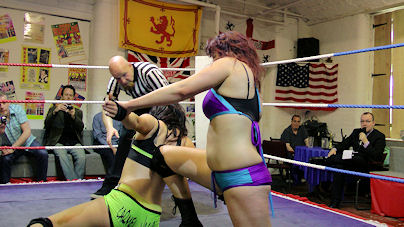 An all Scottish encounter featured 4 lovely ladies always, welcome to the Wrestling Factory.
The combatants were very colourful: Kayleigh and Sarah wearing similar 2 piece outfits in a vibrant blue with purple trim. Carmel's lively green attire proudly displayed her name on both her top and briefs. Shelly wore a black and pink combination, further enhanced by a small chain linking her skimpy trunks to her colourful boot covers.
Carmel faced Sarah firstly, with Carmel on the offensive from the off. Successful reversals and counters from Sarah followed as Carmel invited Shelly into the action, via a swift tag.



A series of holds and roll outs were played out as both girls sought the advantage. Kayleigh was tagged in and immediately had Shelly in a compromising stranglehold before she was able to release herself and tag in Carmel. The action continued at a furious pace as Carmel had Kayleigh in a turnbuckle - a cracking match was unfolding before us !
Continuous tags were made to freshen up the action. Shelly obtained 2 separate 2 counts on Sarah before she was able to scramble to her colleague: Kayleigh.
Ms Ray forced an incredible drop kick and near pin before Sarah was tagged back in. Shelly was on the receiving end of a powerful body slam and near pin from the tireless Sarah.
It was hard to take your eyes off the action with the 4 girls giving their all to become the Pride of Scotland.
A conclusive pin determined the outcome of this superb bout.


Download now !
Approx 15 mins

Price £8
To download this video click buy now button. Pay by credit card or Paypal