Trixie
vs
Antscha
Mat Based Contest:10 Minute Duration.
Taken from the
No Mercy In Manchester Show
DVD available now @ £40 inc p+p




Trixie re-emerged for her second appearance of the day, as did Hungarian girl Antscha.
As with her previous match it was so encouraging to see such an enthusiastic and spirited performance from newcomer Trixie.
Antshcha opened with a powerful leg scissors and followed up with a slam to the canvas on Trixie.
This match resulted in a victory for one lady with 4 pins.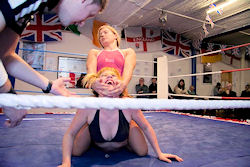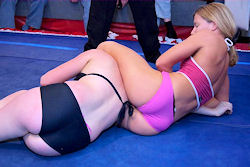 The result though conclusive, was in no way a reflection of the match itself as the winner did not have things all her own way on her road to victory.
Download now
Approx 10 mins

Price £8
To download this video click buy now button. pay by credit card or Paypal