Shelby Beach
vs
Viktoria
Mat Based Contest: 15 Minute Duration.
Taken from the
No Mercy In Manchester Show
DVD available now @ £40 inc p+p

Wigan's blonde bombshell Shelby Beach climbed through the ropes in a stunning blue one piece costume.
Hungary's other wrestler, Viktoria, donned a pale blue top and navy thong style briefs.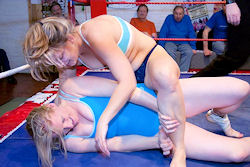 This most intriguing bout was the last contest prior to the interval.Viktoria forced a painful scissors on Shelby who soon counteracted with a near pin.
Both girls appeared very evenly matched with neither giving anything away. Shelby again forced herself onto Viktoria who responded with a brilliant reversal, forcing Shelby to comment: "You've got some strong legs on you !"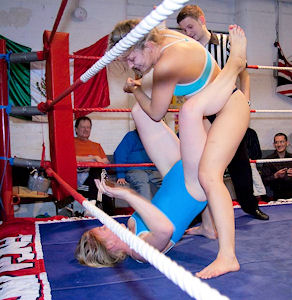 The first fall came via submission and what followed is something rarely witnessed - the 2nd pin(s) resulted in both girls tapping out.




This fascinating match resulted in a narrow 2-1 victory.
Download now
Approx 17 mins

Price £8
To download this video click buy now button. pay by credit card or Paypal