Pippa L'Vinn
vs
Antscha

Mat Based Contest:10 Minute Duration.
Taken from the
No Mercy In Manchester Show
DVD available now @ £40 inc p+p

Everyone's favourite and Britain's best lady wrestler, Pippa L'Vinn was first in the ring.
She looked amazing in her tight fitting black & white print bikini.
The first Hungarian girl of the 2 on the event - Antscha, also wore a 2 piece costume, black with white trim.


Both ladies locked up and it soon became clear that there would be no quarter given by either.Pippa applied brilliant use of her legs to filp Antscha over.
Antscha was on the receiving end of a couple of 2 counts, kicking out just in time.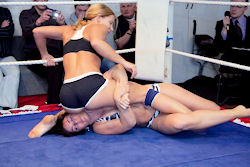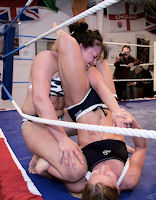 The first pin came from a superb roll-up. This was equalled soon after with a neck hold, close to the turnbuckle.
In this tightly fought match, a further 2 pins brought a 3-1 victory.



A fascinating match with Pippa showing she is equally adept as a Mat Based or Pro style competitor.

Download now
Approx 12 mins

Price £8
To download this video click buy now button. pay by credit card or Paypal