Lisa Fury
vs
Sarah
Taken from the
No Mercy In Manchester Show
DVD available now @ £40 inc p+p

Pro. Style Contest:10 Minute Duration.

The first match of the day pitted England's Lisa Fury from Liverpool against Sarah from Scotland.
Lisa, having performed so well at this arena on previous occasions was well received by the crowd


Her opponent, also making a welcome return, Sarah; another beautiful wrestler.
These 2 glamourous ladies in stunning costumes got the proceedings off to a flying start.
Both girls matched each other from the opening bell with arm locks then reversals by each, in quick succession.



Lisa appeared to gain the upper hand with a series of 2 counts,then she applied a body scissors that was cleverly reversed by Sarah who came back at her.
Lisa was cautioned by referee Richard for illegal use of her opponent's hair.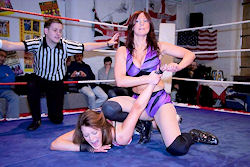 A bright opener was concluded by a pin towards the end of the match.
Download now
Approx 13 mins

Price £9
To download this video click buy now button. pay by credit card or Paypal