Jenny Sjodin
vs
Colleen Masters
Pro. Style Contest:10 Minute Duration.
Taken from the
No Mercy In Manchester Show
DVD available now @ £40 inc p+p

Swedens' Jenny Sjodin was next to the ring, closely followed by debut girl: Colleen Masters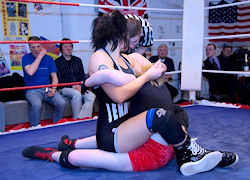 For show debutant Colleen this was baptism of fire; facing an opponent of such strength and determination in Jenny.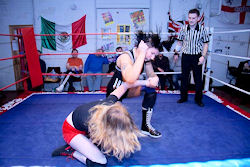 The Swedish combatant applied a number of strength holds, testing the strength of her opponent.
Colleen responded with a nice take down and was showing great technique both her offensive and counter moves.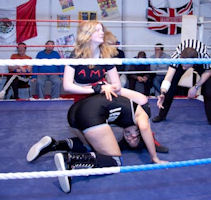 This match was very technical with Colleen showing lots of promise with some spectacular manoeuvres.
Jenny, continued to work on Colleen's upper body with armbars added to the mix.


A submission in the last minute resulted in a narrow 1-0 victory in a fine display from both girls.
Download now
Approx 8 mins

Price £7
To download this video click buy now button. pay by credit card or Paypal