April Davids
vs
Trixie


Mat Based Contest:10 Minute Duration
Taken from the
No Mercy In Manchester Show
DVD available now @ £40 inc p+p

.The "Lancashire Hotpot", April Davids was presented with an award in the ring prior to her match:
"Outstanding Dedication To Wrestling Over The Past Year".


This award is richly deserved as anyone who has ever witnessed April in action will know that she has the heart and spirit of a lioness
The bout opened with a series of stand offs, each girl psyching the other out. Trixie, making her debut at the Wrestling Factory, soon got into the action and appeared to be really enjoying herself; always smiling and laughing throughout.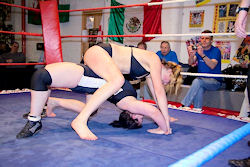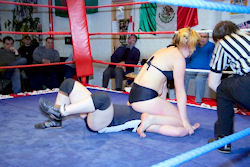 April had her opponent on the ropes and received a 5 count before being instructed to release the newcomer.
The mind games continued as April gained a 2 count.Trixie then forced a painful looking scissors hold on April who,
when asked by the referee if she was giving up, responded "Not on your life, I'm too stubborn".
April then brought her experience to bear with a superb bridge. Trixie, undeterred, came close with a 2 count. An opening pin was equalled with a shoulder press.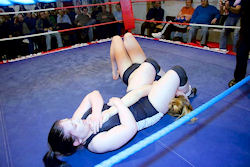 The match concluded with a 2-1 victory with a winning submission, 1 minute from time.
Download now
Approx 13 mins

Price £8
To download this video click buy now button. pay by credit card or Paypal